Indium Solder Paste, Solder Wire, Fluxes, Solder Preforms & Solder Bars for SMT Assembly.
No Minimum Order. Products In-Stock, Fresh and Ready to Ship!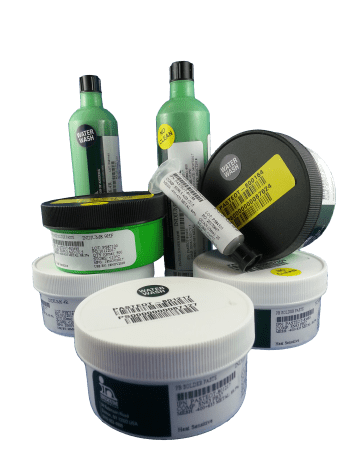 In addition to soldering products in No Clean, Water Based and Rosin Based Chemistries by Indium Corp., we also offer an array of complimentary products for your soldering and SMT requirements. Squeegee Blades and Holders for SMT Printers, Dry Boxes for MSD Storage, Tip Tinners, Fluid Dispensing Kits and accessories, High Temperature Oil for Reflow Oven chain lubrication, Lead Extenders, Double Sided Splice Tape, Replacement Wave Solder Fingers, Replacement Edge Belt Conveyors and ESD Lab Coats are just some of the items we have available for you.
OEM's (Original Equipment Manufacturer's) and CM's (Contract Manufacturer's) are welcome to inquire about setting up an account for your orders. We are also available to take your orders over the phone and process your credit card payment, Mastercard and Visa accepted.
Any inquiries regarding Indium Corporation products or formats not seen on our website are welcome. Please Contact Us anytime by Email: smtindustr
[email protected]
or phone 416-578-8070 for additional information.
JOIN OUR NEWSLETTER
Sign up today and stay informed with the latest industry news, special deals and new product information.