Indium Solder Paste, Solder Wire, Fluxes, Solder Preforms & Solder Bars for SMT Assembly.
No Minimum Order. Products In-Stock, Fresh and Ready to Ship!
INDIUM® 6.4R SN63/PB37 Solder Paste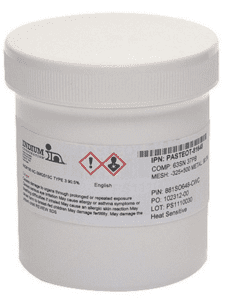 Take this opportunity to try our Indium® 6.4R Type 4 SN63/PB37 Water-Soluble Solder Paste. (89.5%).

One of Indium® Corporation's preferred
pastes, 6.4R Indalloy #106 is an excellent paste for air and nitrogen reflow with an exceptional reflow process window. This paste provides exceptional stencil printing performance with long stencil life and excellent response-to-pause.

This paste exhibits superior wetting to a variety of surface finishes and exhibits the best voiding performance, with fewest voids, reduced size of largest voids, and overall minimized voiding for:
BGAs, CSPs and BTCs (QFNs, DPAKs, LGAs, etc.)
FREE SHIPPING IN ONTARIO, CANADA
INDIUM® 10.8HF PB Free Solder Paste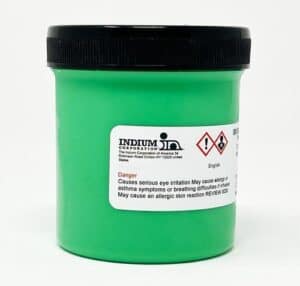 Indium10.8HF solder paste enables low cost-of-ownership to PCB assembly customers through an all-around balanced performance, including stencil printing yields, voiding, and soldering yields.
Indium10.8HF is versatile, with a balanced set of properties:
Meets leading OEM standards for non-wet open resistance.
Oxidation barrier technology delivers strong resistance to:

Head-in-pillow defects
Graping (non-coalescence of powder particles)

Strong surface oxide cleaning and pad wetting during reflow ramp
Low voiding on BGSs, CSPs, and QFNs
Outstanding printing performance with high transfer efficiency and low variability
Excellent response-to-pause
FREE SHIPPING IN ONTARIO, CANADA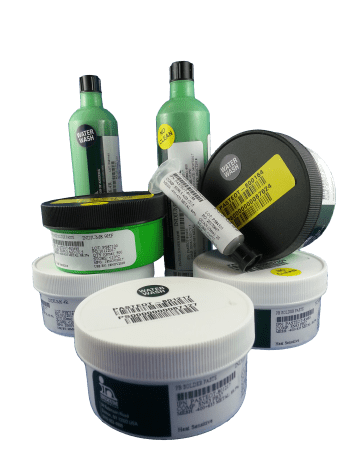 In addition to soldering products in No Clean, Water Based and Rosin Based Chemistries by Indium Corp., we also offer an array of complimentary products for your soldering and SMT requirements. Squeegee Blades and Holders for SMT Printers, Dry Boxes for MSD Storage, Tip Tinners, Fluid Dispensing Kits and accessories, High Temperature Oil for Reflow Oven chain lubrication, Lead Extenders, Double Sided Splice Tape, Replacement Wave Solder Fingers, Replacement Edge Belt Conveyors and ESD Lab Coats are just some of the items we have available for you.
OEM's (Original Equipment Manufacturer's) and CM's (Contract Manufacturer's) are welcome to inquire about setting up an account for your orders. We are also available to take your orders over the phone and process your credit card payment, Mastercard and Visa accepted.
Any inquiries regarding Indium Corporation products or formats not seen on our website are welcome. Please Contact Us anytime by Email: smtindustr
[email protected]
or phone 416-578-8070 for additional information.